Sports Turf
Synthetic Turf for Batting Cages, Bocce & Tennis Courts
With access to the broad line of XGrass synthetic turf products, your representative can also design and install a variety of surfaces for other sports.  Common applications include:
Bocce Courts
Bocce traces its roots back to the early Romans and enjoys a very rich and colorful history.  It has been played throughout the world for generations by people of all ages and skill levels.  Over the years, bocce courts utilized a wide variety of surfaces, so while the game's governing bodies may call out a stone dust surface as official, grass courts have been used for centuries.  According to Bocce.org: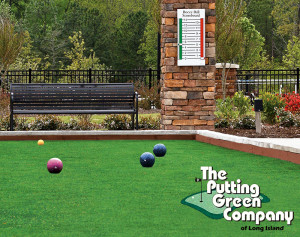 The sport first came to America in the English version called bowis from the French boule meaning ball. In accord with how the game was played in Britain, American players threw the ball not on stone dust (as is done today in bocce) but on close cropped grass which some say is the origin of the modern lawn. It has been noted that one early American playing field was Bowling Green at the southern tip of Manhattan and that George Washington built a court at Mount Vernon in the 1780s.
The reality is synthetic grass bocce courts offer an excellent playing surface compared to clay, sand or natural grass.  Unlike these surfaces that require constant maintenance, synthetic grass courts are highly durable and require virtually no maintenance.  Plus, you can still spin the ball or roll it up to the Pelota.
Bocce courts are a great addition to your backyard.  Whether you want to host neighborhood tournaments or just have an activity to enjoy with friends and family, consider adding a synthetic grass bocce court to your yard.
Tennis Courts
Tennis is another great sport that can be played by people of all ages and skill levels.  And with a synthetic grass tennis court, you can spend time playing rather than maintaining a court.  Numerous synthetic turf systems are available to achieve the characteristics you desire.  All of them drain well, wear well and simulate the performance of courts made from more traditional surfaces.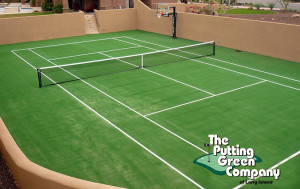 Batting Cages
DURAFLO BACKING
The DuraFlo all polyolefin backing system is 100% recyclable and up to 50% more permeable than perforated urethane backed products.
---
FOAM PAD
Our exclusive foam pad provides maximum cushion while aiding and softening ball rebounds.
---
DURABLE FIBERS
American-made XGrass is manufactured with premium fibers specifically developed for a wide range of sports. XGrass is recognized for its outstanding playability, resilience, durability and aesthetics.
When it comes to batting cages, one kind of turf does not fit all.  XGrass can help you choose the batting cage turf and accessories that fit your needs. All synthetic turf from XGrass provides the durability, traction and cushioning you need for a first-class batting cage.
Your Tour Greens representative will help you select the style of artificial turf for your batting cage that will mesh well with your local environment.  The revolutionary design stands up to unique, high-traffic situations while keeping users safe and comfortable.
Meets G-Max ratings
HeatBlock reduces heat absorption by up to 17.5˚F
Custom inlaid lines or logos
Duraflo backing
Recyclable
Premium American-made Fibers
Safe and durable